NERO
had arranged to truck our sleds out to
Ironwood
, so we could all fly out. A little controversy erupted when the NERO truck arrived to pick up our sleds. We had suspected that Bill Gates had an
aluminum chassis
sled, but had always been told there was no such a sled in existence. When the truck arrived, his sled was tucked way up in front.
Everet tried to bet Gates $500.00 that it was aluminum, but Gates wouldn't bite. He climbed up in the front of the truck and put a magnet on the chassis and sure enough it was aluminum! Ken was pissed that he was never offered that chassis. Maybe some extra motivation had just been added to Ken's determination for the final event of the season?
Ken qualified for three(3) separate classes, while Chip had a shot at two(2). When the checkered flag had waved for the last time, Ken had again been victorious, capturing the
MOD I
title.
Ken Young was the only non-factory sponsored rider to win a men's modified class.
This was the 2nd time in three(3) years Ken had reached the winners circle in the World Series Men's Modified racing -
a record unmatched by anyone!
An especially sweet victory for
Regal with his hybrid creation
making a permanent mark in the record books.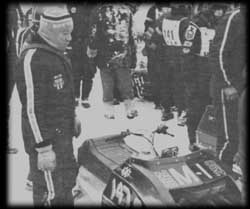 "They impounded the sled and engine after winning MOD I and
spent hours in conference
before declaring it legal size for the class." said Regal.
Other guys attempted to build duplicates of that engine, but never had success in building a winner. The factory boys said
this is one for the books!
It was about that same time that the Rupp teams, Gene Bloom named Everet "
Super Wrench
."
As Ev remembers the specs on that engine, "All crank shafts on 250, 292, 340, and 440 were 60mm stroke. I believe the 340 had a Walbro butterfly 32mm carburetor and the 250 had 28mm. The exhaust chambers on 340 had 3/4 inch diameter stingers, 7 1/2 inches long. The 250 had 1/2 inch diameter stingers, 12 inches long. The 340 carburetor sat at a 30 degree angle and the 250 carb sat parallel to the base.
A very strange looking setup, that blew most guys minds that saw it.
"
The engine was on display in Regal's Phoenix, speedshop, showroom window after the following Spring drags. It was soon to be
stolen
and we were told someone saw it in
Alaska
. "That's the last I heard of it's whereabouts." Regal sadly recalls.