The summer of
1969
was the start of something special. No deals yet in place. A new year of racing yet to be mapped out.
Fay Parmley
, of
Genoa, New York
, showed up at the house one day, according to
Everet
. He had a fellow by the name of
Ken Young
with him. Energetic, personable guy. Ken owned and operated a private dairy cattle farm. Today the farm is know as
Twin Birch Farms, Inc.
in
Skaneateles, New York
.
The boys wanted to start a race team working for
NERO Equipment, Inc.
located near
Rochester, New York
. NERO was
Arctic Enterprises Eastern Division Distributor
. "We all got along great and it looked like it could be fun, as well as competitive. I already knew Fay's driving talent and from what I had heard, Ken was in the same league. I hadn't had the chance to work with Arctic Cat's before and I was excited to have the opportunity." The previous year both men had been piloting Skidoo's with tremendous success.
"A week or two later, they brought
Richie Sharp
up to meet me. They were all friends and thought we'd make a good group. An appointment was made and we all went out to NERO Equipment to meet with
Bob Schwartz
. A deal was struck and we formed a race team, working with NERO and the factory."
They also needed a place to work on the sleds. "We agreed to work out of my small, one car garage," said Ev. "Tight conditions, but this seemed to be our best option and also gave us quick access to
Phoenix Gage, Inc.
. The Gage was a fully equipped machine shop only a few blocks from my home. I had been employed there for many years. The owner,
Paul Scusa
agreed to let me use the shop as needed."
---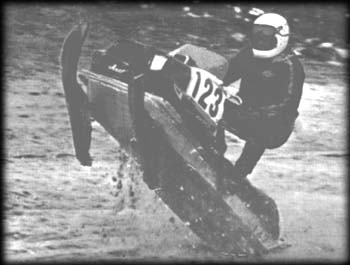 Puma
1969-70 was when we had the Puma, short track sleds. They had JLO Hirth and Sachs engines with Tillotson and Walbro butterfly pumper carburetors. All of these engines were fan cooled engines when we got them. Everet quickly modified them to be free air.
In retrospect, Everet and the boys say,
these were the best sleds they had in their years of racing cats!
back to top
Phoenix, New York
to work on the sleds several nights each week, to prepare for the weekends racing. As any racer knows, racing quickly consumes all your time and most of your life!
She said to him as he was heading out that night,
"You guys are nothing but a bunch of widow makers!"
On that day, they decided to name the team Widow Makers! Everet says, "We pulled the hoods off all the sleds, took them over to
Ronnie Lynk
and had him paint
Widow Makers
on the front." A great team name was born!
back to top
by Everet B. Regal
We used to all meet at a little diner in Weedsport.
Youngy, Parm, Sharpie, Chipper
and I. We would have coffee, and then all pile into our pickup trucks and drive out to
NERO
on Atlantic Avenue in
Rochester
. We would pick up our parts and sleds and head back to my garage in
Phoenix
, to work on them.
Phoenix is a small town and I live right in the residential area. We would spend the day working on the sleds, running them up and down in front of the house, and racing the engines in the garage, with those noisy pipes. This was almost a daily event. No fancy private race tracks or dynos for testing. Just the seat of the pants test, down the village street! I never knew how we got away with that with our neighbors. The
police
never seemed to give us any problems at that time either. I wonder why?
I remember a particular incident. One night Youngy went flying up the street. The
VFW
is just a block away from us. He would turn around there and come flying back.
Ken
came in the garage laughing and said to us guys, "when I was turning around with the sled, this old drunk came staggering over to me from the VFW and said," "
Have you got all your marbles
?" That made our day!
back to top
Rhinelander, Wisconsin 1970
. Home of the
first USSA sanctioned World Series
event. The end of a great team season had one finishing touch yet to come.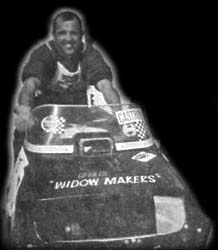 Still considered to be one of the most memorable races in USSA history! Competition was fierce in the Modified IV class, with all odds being on the side of the factory teams. The feature event final laps, had spectators on their feet cheering, as factory driver
Bob Eastman
and privateer
"Widow Makers"
team member
Ken Young
quickly squared off in a two(2) man race!
The men
exchanged the lead three times
on the final lap, each determined to capture this major title! Putting on a final stretch duel, finding Young's machine crossing the finish line a matter of feet ahead of Eastman's!
Ken's ability, combined with the
"Regalized" Puma 634cc
iron, proved too much for even the factory teams.
Youngy
finished the year as
Eastern Division overall point leader
, earning him the coveted
#1 Gold Bib
and a true place in history.
back to top
The wind was blowing like hell and the flip up door to the cap was only propped up with a weak, slider arm. There was a large, glass window across the cap door. They propped up the cap door

and were struggling with the tool box, trying to get it positioned to stop the rattle when
suddenly
, the door crashed right on top of Fays head, smashing the window, leaving him with his head sticking out through the glass!
Everet recalls with a laugh, "Fay was so mad he could hardly speak!"
Fay finally yells,
"That thing ain't nothing but a bear trap!"
back to top