The Start of the Snowmobile Years
In 1967-68
Everet
was racing a Ski-Doo around the state.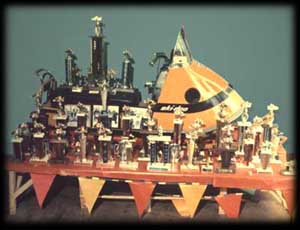 Dick Jerrett
was driving the sled and they were having a great season together. Dick had been a super modified driver at the
Oswego Race Track
in
Oswego, New York
. He had almost burned alive in a crash years before at Oswego. His father was once Oswego track champion.
"We had a megaphone sticking out the side of the cowl. Loud, but seemed to be effective on that Rotax single, at that time." says Regal.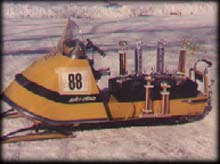 Pictured to the right, is a year end shot of their sled and some of the trophies they had collected throughout that year. The sled was kept on display at
Ralph Jennings
business, where this picture was taken.
To the left is a shot following one good day at the track after jumping two classes in all events.
---

According to Everet, "Somewhere in the state, during the summer months, I ran into
Fay Parmley
at a mud drag. He asked me if I would build him an engine for the following year for the
New York State Championship in Boonville
. At the time he was racing
Ski-Doo's
for
Max Collin
. I agreed and looked forward to working with Fay again. I stroked a 240cc single engine Rotax for him. He ran it in the 300cc class and won the
New York State Championship
that year."